Online Shopping vs. In-Store Shopping
Online shopping has been existing for a decade now, but it didn't gain as much popularity before as it did after the COVID pandemic. One of the many reasons for the growing popularity of online shopping is the level of support and comfort businesses offer to their customers. They keep adding new features to ensure people have the best experience buying goods and services of their choice from the comfort of their homes.
Today, we will understand the differences and benefits between Online Shopping vs In-Store Shopping.
Do you know eCommerce sales are projected to reach $6.4 trillion by 2024? That's all because of convenience. With a single click of a button, you can buy whatever you want and have it delivered to your doorstep.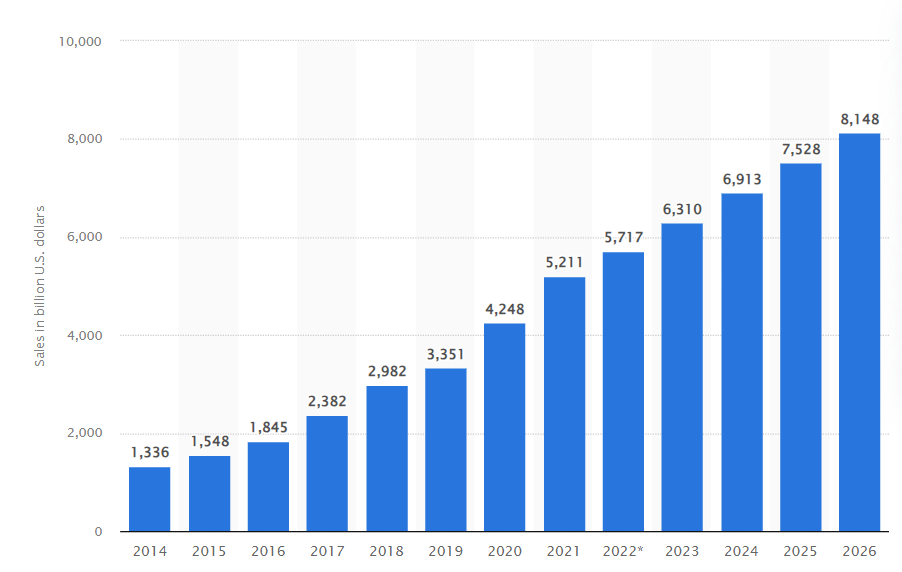 Some eCommerce stores have a very flexible return and refund policy, allowing customers to return the product if the goods were damaged or not up to their desired quality. That said, many people still prefer to hit the retail store and buy in person. Sometimes, the shoppers select items online and then visit the store to finalize the purchase. Let's understand each and the differences between them.
Online Shopping vs In-Store Shopping
Overview of Online Shopping
Online shopping is mainly famous for the level of convenience it offers. Its contactless nature and a wide range of goods and services that customers can browse at any time and from anywhere make it the best choice among those who don't have time to visit a retail store frequently. It's not just convenient. But people can save on their favorite products by buying them from a special online deal.
Online shopping had been popular before the pandemic, but since COVID, more and more people are turning to this safe and comfortable mode of shopping. In the initial days of the pandemic, people preferred online shopping, as no one wanted to bear the risk of contracting the flu. However, the trend didn't end with things getting under control. The pandemic is over, but people still shop online. The credit goes to the eCommerce stores that keep improving customer experience.
Here's what online shopping looks like.
Customers need a smartphone, a tablet, or a computer to browse products online and place an order.
Customers can check the detailed description of each product on the target website. They can find photos, videos, and details about the product, but that's the only way to interact with the product. They can't touch, see, sense, or smell the product in any way.
Customers have the choice to buy whatever they want from any online store, but might not be able to pick it up physically unless the retail store is within the same city.
There is not much human interaction during the process.
Reasons for the Growing Popularity of Online Shopping
You don't get to visit the retail store 24/7. A customer needs to check the store opening and closing hours before visiting. If you return home late from work, chances are your favorite retail store will be closed by the time you get there. That's why people prefer online shopping. It gives them the freedom to browse their favorite products at any hour of the day. They can add these products to their wishlist or make the purchase right away.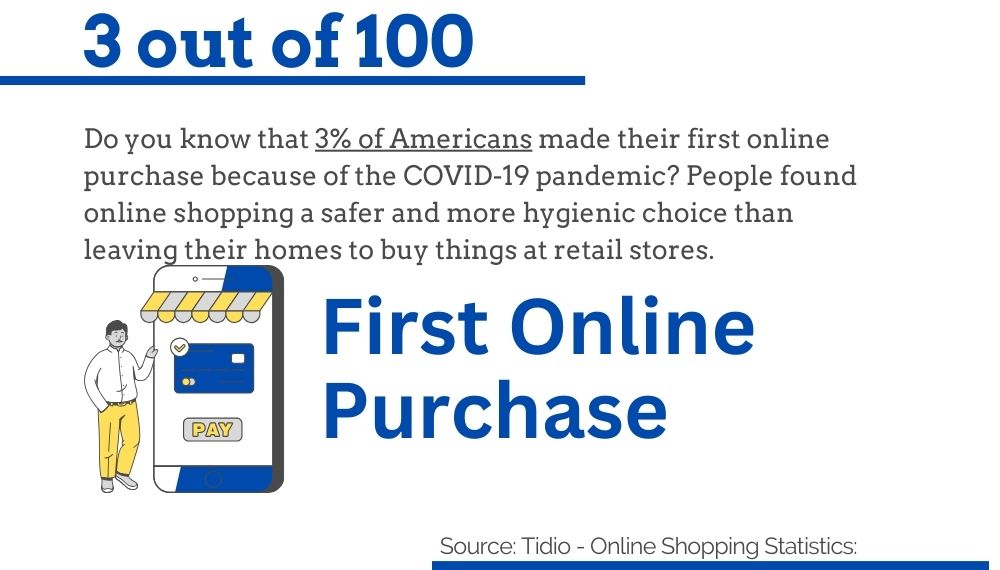 From a business's perspective, online shopping offers tons of opportunities to draw the attention of your prospects. From free shipping to loyalty programs, there are many ways to grow your online store. Online shopping is an ideal option for those who don't have the time for transportation or those living far away from the retail store. For customers who face difficulty getting to the retail store, placing an order for it online will be the most convenient option.
The question is, which customer group is more likely to purchase online? Well, a vast majority of them are Gen-z users. However, people from all age groups have started using their smartphones to at least search for the products and then buy them at the retail store.
Online Store Statistics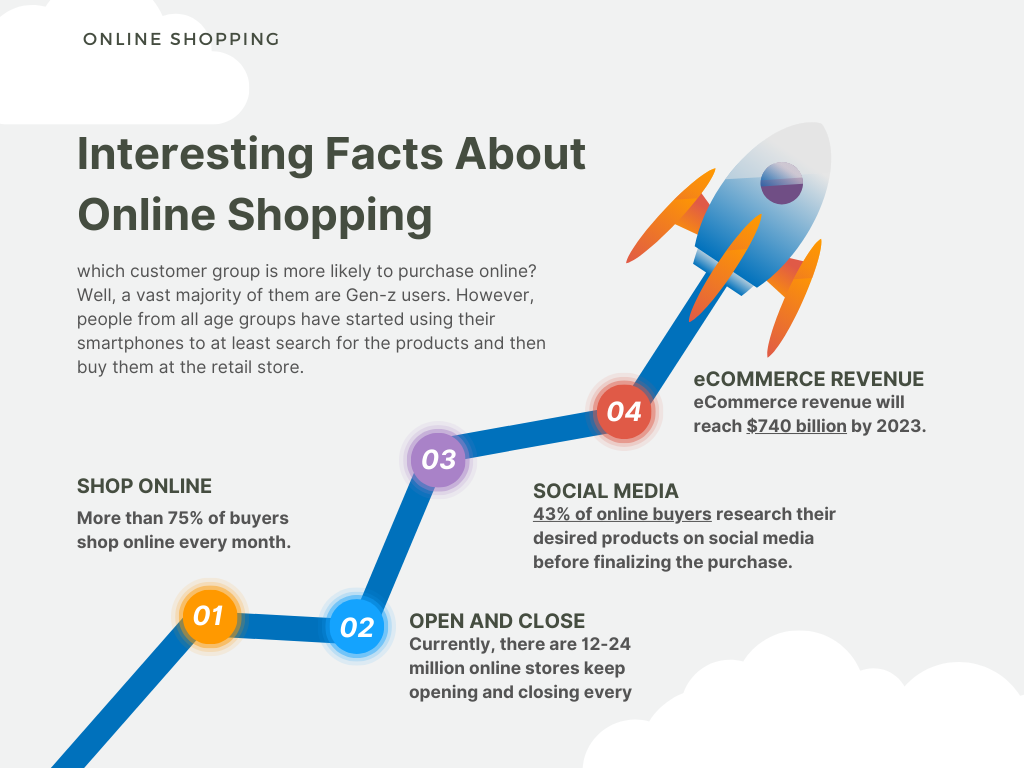 Benefits of Online Shopping
Availability: Online shopping is accessible to all. It has made it possible to buy goods and services from international countries while sitting on your couch.
No Pressure: There's no buying pressure or any disturbance with online shopping. You can peacefully scroll the Shopify or BigCommerce store to check the latest offerings from the retailer and buy when you want. You get enough time to research and buy instead of making a hasty purchase decision.
Offer a Broad Selection: Businesses can offer a broad selection of products, allowing their customers to choose from different varieties. You can build a massive store with different kinds of products without having to worry about the inventory (if you are in the dropshipping business).
Perform Better in All Conditions: eCommerce stores do not encounter any area-related restrictions, like closing down because of poor weather or difficulty finding suitable parking spaces for customers. Shoppers enjoy the convenience of buying anything from your store at any time.
East Return: Online shopping doesn't just make it easy to buy things online, but it has a flexible return and exchange policy. Customers must go through the terms and conditions carefully to know when they can apply for a return and refund. In addition, it's easier to track the return status online. You can also track the delivery status to get a clear picture of where your parcel has reached and how long it will take to reach your place.
Why Avoid Online Shopping?
Despite all the benefits, online shopping is not always a feasible option for customers and sellers. Setting up and running an online store requires technical expertise. Although Shopify and WooCommerce have made it easier to set up your online stores, they still require the basic knowledge of creating a storefront, adding products, and so on. So, online stores are not free of cost. The setup cost and its maintenance require a good budget. Besides, customers don't get to interact with the staff, so they have to buy everything on their own.
People don't trust online stores. You might be running an authentic store and have all the security protocols in place, but people might still prefer retail shopping. They feel more confident buying their favorite products at retail stores than shopping online. Other than that, the seller has to add the packaging and shipping costs to their budget. From the customers' perspective, sampling is nearly impossible. You can't taste the food items, nor can you try your favorite dress.
The inability to sample the products before buying makes customers reluctant to shop online. Finally, online stores face more competition than brick-and-mortar stores. With so many online stores opening, it's getting tougher for the startups to succeed.
Overview of Retail Shopping Experience
The pandemic was supposed to bring us the convenience of shopping online. While that trend doesn't seem to be ending anytime soon, retail shopping is still alive. Customers know the importance of physically examining a product before they make a purchase. No matter how rapidly eCommerce evolves, people still prefer visiting retail stores to check the quality of the product and interact with the team before buying.
They can have peace of mind knowing the return policies. Besides, many retailers offer discounts on special occasions. So, you can buy your favorite goods at a discounted price. Some kinds of products cannot be purchased online. While nearly everything, including food, can now be ordered from your favorite eCommerce store, some people prefer conventional shopping.
Here's what shopping from brick-and-mortar stores look like:
Customers need to drive to the store and select from the available items to find products that fit their requirements and preferences.
There's no waiting time needed for delivery. Once you have finalized the product, you can buy it immediately, make the payment at the cash counter, and take it with you.
Retail shopping gives you a chance to test the product before buying. You don't have to rely solely on the photos, videos, and visual content that you see on the seller's website. These can sometimes be misleading. With retail shopping, you can visit the store, check the product in person, and buy it only when it feels right.
Customers get to interact with the sales representatives and ask questions. You can ask questions related to the product warranty, its lifespan, use, benefits, and so on. For instance, if you are buying a cloth piece, you can ask whether it's safe to machine-wash the fabric or will the color fade.
Benefits of Retail Shopping
Build Trust: Buying from a retail store is considered comparatively safer than buying online. There's no guarantee whether or not the online store you shop from is authentic. Retail shopping, on the other hand, helps your customers have peace of mind knowing that they can make the payment immediately and bring their products home. A large population doesn't shop online because of the fear of getting scammed.
Better Customer Service: Unlike online shopping, retail shopping gives your customers a chance to interact with the sales staff, thus collecting sufficient information about the product. It's much better to talk to the staff and discuss the product's features in person than relying solely on the product descriptions mentioned on the online websites. These are for the general audience. If you have any personal questions, retail shopping allows you to ask and clarify them.
Easy to Return: With retail shopping, all you have to do is put the product back on its shelf if you change your mind. Returning products is not that difficult on online stores either, but if you are buying from a website with a poor user interface, you might have to remove all items from the cart to remove one product. Abandoning the whole cart and then adding products again can be challenging.
Interaction with the Product: As mentioned previously, in-store shopping offers you the opportunity to check the product, smell it, touch it, and see it before buying. That's a big relief for customers who do not want to blindly trust the product photos they see in online stores. For instance, customers can taste the wedding cake sample before ordering or wear the clothes to ensure the size, color, and overall fit is perfect. These options are not available in online shopping.
Boost Sales through Displays and Promotions: Retailers can display their latest offerings and offer exciting promotional benefits to grow their retail sales. For example, a 50% off on certain products to clear stock can help boost your sales rapidly. Plus, it gives them gratification, as walking away with the product in your hands is quite satisfying, instead of waiting for it to be delivered a week after you ordered.
Save Shipping Fee: Since you are driving to the retail store for purchase, you can save significantly on the shipping fee. Products that are available at a reasonable price at a retail store often end up being costlier when you buy online, because of the additional shipping charge.
Get Assistance from Staff: Some shoppers need human interaction for shopping. They need the sales staff to listen to their queries and help them buy the product they are looking for. People are more comfortable buying from a retail store because of the staff assistance. The sales team will walk you to the right department and assist you throughout your shopping journey.
Other than these, in-store shopping is seen as a fun activity. You can visit malls and showrooms with your friends, check out different products, and have a great time shopping.
Why Avoid Retail Stores?
In-store shopping has its own advantages. But at times, it might not be a good option. First of all, you must have a budget for high rent, especially if your store is located in the center of the city or in an area with high traffic.
Add to this the utility and security cost, and you will know why opening a retail store is simply not an option for some vendors. These are not the only expenses. If you are running a retail store, you might have to employ a team that can assist your customers in shopping. You have to pay their monthly salary, irrespective of your sales and revenue.
You must also factor in the inventory management. Since you will have limited space in a retail store, you cannot display as many items as you can in online stores. If you have a huge inventory, you may have to invest in a warehouse to save it. Lastly, in-store shopping doesn't offer your customers the convenience of buying from the comfort of their sofas. They are supposed to travel all the way to your store and buy.
How You Can Merge Online Shopping and In-Store Shopping?
Customers are willing to pay extra and spend their time traveling to the retail store to get the product they want. The goal is to get the product right there instead of waiting for weeks for it to arrive. At the same time, some customers are totally fine with buying online.
In fact, they prefer online shopping, as it offers more convenience and is comparatively cheaper. You can select from different deals and wait for the special promotional offers to get a good discount. The best part is businesses can offer a huge selection of products, which is not possible in retail stores with limited space.
Fortunately, you don't have to choose between the two. You can embrace an omnichannel marketing strategy where you can run a retail store while having a strong online presence. If you already have a brick-and-mortar store, you can invest in website development and social media marketing to inform your target audience about your products and services. This gives you an opportunity to cover a broader market. You can also rank your product in the local search engine, thus driving organic traffic to your online and retail store.
In addition, improving your online shopping strategies can help a lot. For instance, many people refrain from online shopping because of the delayed product delivery. You can incorporate same-day shipping services to selected areas.
Bottom Line
There's more to shopping than buying the products you need. For some people, it's spending a good time with their family by going out shopping with them and sampling the products before making a purchase. While online shopping is growing in popularity, in-store shopping has not lost its worth. Understanding your customers' preferences and what they prefer can help you transform your online and retail store to ensure you meet their satisfaction.